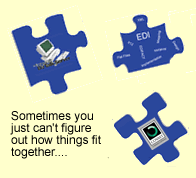 Second Star Services
We provide the full range of services related to the implementation of EDI in the business environment, including Requirements Analysis, Solution Design, Implementation, and mapping. Whether you need a turn-key solution or simply a modification to a map, we are there for you. Although our experience crosses the spectrum of EDI-related activities, we focus today on EDI implementations centered around the Microsoft BizTalk Server and the Microsoft BizTalk Server Base EDI adapter and providing BizTalk mapping for such projects. For more detail on our services:
EDI Mapping ( BizTalk, GXS Application Integrator, and Mercator) There is no substitute for experience in EDI mapping if you want maps that meet your specs first time and every time.
Training Odds are that not only will you like our training better but that you will also find it less expensive than that provided by others. We also tailor our classes to meet your specific scenario rather than offer a boilerplate presentation.
Business Requirements Analysis for EDI Projects Business Requirements Analysis is the keystone of successful EC projects, small and large, yet the development of business requirements is the most ignored aspect of EC projects.
Solution Development for EDI Project A solution design is the architectural blueprint for the project plan. Without a solution design a project has no roadmap to completion.
Implementation of EDI Projects Implementation services help translate the solution design into an operational system on schedule.
EDI Product Evaluation Very few companies have the experience and knowledge base to enable them to select their EDI application without relying heavily upon what the vendors state. Of course the vendors always have the client's interest at heart -- don't they?